Back To Our Services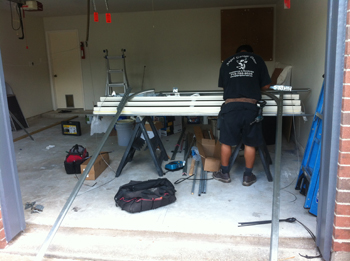 Sunrise garage door service is here to help with everything that you could ever need. Your garage door needs to be in good working order for you to get the most out of it and keep your home safe. We'll be able to help you explore your needs and diagnose problems that you are having in order to develop the ideal solution every time. Our residential garage door service is your hometown source for the best solutions, no matter what you need. We can take care of all brands and models of doors and openers, which gives us to offer beyond just a friendly face.
If you need Sunrise garage door service, including emergency garage door service, you're in the right place.
Broken springs, busted door panels, technical malfunctions, snapped cables, and even old, worn out systems are all common issues that we handle on a regular basis. We have plenty of experience in the industry and have been working for years to develop our reputation as your hometown garage door service that provides professional results and affordable rates for all of our customers. It's just what we do.
When you need same day garage service, repair, or replacement, we have flexible scheduling options to suit your needs. Call us to let us know what you need and we'll be there as soon as we can. Originally known as Sunset, Sunrise is our home and we're happy to be the hometown solution for all garage door needs. When you truly want the best, there's no place better than our Sunrise garage door service company. We provide Genie service, Liftmaster service, broken garage door spring service, and more. Don't be fooled by the larger companies that hail from Miami or even Fort Lauderdale. We're the best that there is and you'll never find friendlier, more reliable service than what you get with us.
Garage door maintenance, service, and repairs are our specialty. You should never try to do the work yourself because it could be very dangerous. With our low rates, you can afford to give us a call and let us do the repairs that you need for less. We're committed to your success and only offer the services that you need with the best results in mind. Whether you're in need of a replacement spring or your garage door just needs replaced due to age, we can help.
Give us a call today to speak to your hometown professional garage door service.
Back To Our Services