Back To Blog
Are you looking for a high security garage door that offers maximum protection to your garage? Well, there could be many reasons for people to look for such high security doors. The prime reason could be to prevent any intruder from breaking into your garage and accessing your valuable home assets. Many conventional doors only have a security lock with a small latch in the middle of the door. This latch is typically connected to a handle via a cable. This handle, when broken, affects the functioning of the latch immediately.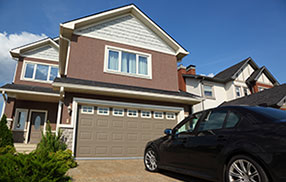 It is also possible for garage doors to have wood frames which are not fitted properly. In this case, it is very easy to force the door open from outside, without much effort and quietly too. For the same reason, many doors of the conventional or traditional type are found to have a very low level of security. Burglars and intruders are more likely to target such systems. As a result, the garage is not such a difficult place to gain access to as compared to the house itself. It is therefore, highly essential to install a good and solid built door that offers better security. Do not compromise on the security of your door by opting for cheap and poorly fitted electric operators.
Garage is not such a difficult place to gain access
According to statistics, around 40% of the unforced entry type of crime in residences is through garage doors. In many houses, the most targeted and vulnerable area is the garage and intruders easily gain access to the house via garages, especially when there's access to the main house through garages. Such designs and lack of proper security for the garages, makes it extremely easy for burglars. Modern doors are much more secure and most of them come with features like a cylinder system with euro profile for locking as a regular standard and make use of locking rods instead of the traditional cables. Good quality security doors will have, at least, two points for locking them internally. In addition, they often come with the option to have 4 locking points too, at a minimal extra charge.
However, the strength of the door is decided by the door panel and the sub frame for fixing which operates within it. It is not dependent on the locking of the door alone. A flimsy door panel may bent easily and forces the locks, irrespective of whether the frame is fitted with wood or steel. It is essential that the right fittings are used, so as to prevent the problem of forcing. Choose a door panel that is not very thin, so that it cannot be smashed or cut open easily. Inferior and cheaper quality doors compromise the security of the door by using substandard and cheap material for its construction. An example of poor quality door that is easily penetrated and is low in the security aspect is a cheap timber garage door that comes with a plywood face backing. High security doors are the only solution to make sure that your garage, as well as your home, is well protected from intruders.